News!
June 8-10, 2012 - Pilar Pobil's "Art in the Garden" Exhibit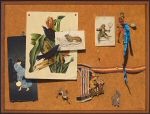 Edie has been invited once again to exhibit her recent works in Pilar Pobil's 18th annual "Art in Pilar's Garden" show on June 8-10. (See: Pilar's website for show details.) This last year much of Edie's time has been consumed with the creation of two new Automata 4D creations, which will be on display in Pilar's garden along with a small collection of other paintings.
Coincidentally, Pilar also recently won the Governor's Mansion Artist Award and thus there will be two Guv award winners attending this year (and both their medals will likely be on display for all to see!) Congratulations to both Edie and Pilar!
On another note, Edie's latest major painting, is a Trompe-l'oeil titled: "An Absurd Board" (left). It was first displayed (privately) at the Governor's Mansion last December and is now an entry in the 2012 Springville Salon.
Dec 1, 2011 - Edie receives Utah Governor's Mansion Artist Award!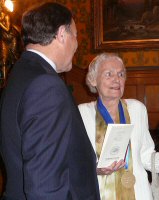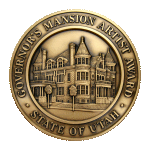 Once each year, (since 1997), the Utah Governor's Mansion Artist Series Committee honors a small handful of special Utah artists at a private event held inside the Governor's mansion in downtown Salt Lake City. There were three artists honored this year: The Utah Chamber Artists won the award for the musical arts category, Emma Lou Thane won the award for the writing arts category, and our very own Edie Roberson won the award for the visual arts category! The award ceremony was held on the chilly evening of December 1 2011 and the award recipients were first treated to a fancy dinner hosted this year by current Utah Governor Gary R. Herbert and his family. After the dinner, many other friends and relatives of the winners arrived to share in the awards ceremony.
Each artist, in turn, went to the podium to receive their prestigious medal and to say a few words. Once the medals were awarded, everyone was treated to an enchanting musical performance given by the Utah Chamber Artists conducted by Barlow Bradford, the director. A good time was had by all and afterwords, refreshments were served downstairs following the main event, which had taken place in the ballroom up on the third level. The Governors mansion was absolutely splendid with all of its many Christmas decorations.
May 18, 2011 - New Exhibit - Opening night is May 19


Edie's latest exhibit opens Thursday, May 19 at David Ericson's Fine Art Gallery. This show features new work including : A Disagreeable Hen, Chefs, Flower Man, Folks, I Think We're Off On The Wrong Track! (pictured right), Latin Lover, Lucky Day, Mirror of Eternal Feminine Virtue, (pictured left), Strings Attached, Sweet Dudette and Waiting in the Wings. (Several of these pieces feature frames hand-crafted by Edie.) In addition to these new works now on exhibit, 44 new images from the archives have been uploaded to the website with works ranging in date from 2009 back to the '60s. Click on the gallery link - and press "Go!" to see these newly posted images.
Enjoy!
May 31, 2010 - Salt Lake City Library Exhibit - May 29, 2010–July 9, 2010


Edie's latest exhibit, titled: Eclectic Paintings and Automata, officially opened Saturday, May 30 on the fourth floor of the Main Salt Lake City Library. This show features a wide variety of art spanning 44 years of her career with many styles and mediums being represented. All of her automata are on display here as well as some more recent three dimensional sculpted paintings (which could best be described as a cross between a painting and a sculpture). In addition to new, never before seen works, quite a few of her classic pieces from the past are on display here as well (thanks to the generous lending by private collectors.) Images of all 40 pieces on display in the show have been added to the online gallery here for your viewing pleasure. (Note, however, that the many 3-dimensional works are best seen in person - the 2-D photos here do not do them justice.) If you are unable to attend the show in person, we have assembled a virtual tour page here to give you a glimpse of what it is like. Come and see it - Its Great!
September 14, 2009 - Giclée prints and posters available online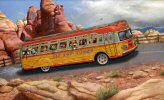 Giclée prints and posters are now available from the on-line art dealer: Art-Exchange (to go directly to Edie's Art-Exchange page, click here). You can also order Giclée prints and posters directly from Edie's website (use the contact form). Edie has made available 20 works including two new giclée prints: "Tip Top Tours" (right) and the popular "Canyonlands Tour" (left). (Note: For those who may not already know, a giclée is a high quality reproduction that is professionally printed using archival quality inks and paper - which resist fading with time.) You can tell which paintings are available for sale on the main gallery page by looking at the rightmost column titled "Availability". This entry will say: "Giclée", "Poster" or "Original" for those works that are available. Also, when viewing a painting in Edie's gallery, the availability is printed below the title at the bottom of each page. The giclées and posters are available from Art-Exchange and the originals are available from David Ericson Fine Art, located in Salt Lake City, Utah.
March 14, 2009 - Gallery Show of Recent Work


Well, its time for another show! Edie has created more than a dozen new works that will soon be on display at the David Ericson Fine Art gallery. The opening is Friday, March 20 and will be a part of the gallery stroll and is open to the public. Edie's new work includes a major painting titled: "And Then I Came Upon an Opening in the Woods", which features an antique castle populated with a variety of sentient forest beings (left). There is also a new 4-dimensional automaton creation titled: "The Portrait", which has to be seen in person (no image yet available). And last summer, Edie spent quite a bit of time out in the field "En plein air", doing some landscape paintings in oil (right). Here is a list of her new paintings that will be on display at the upcoming show: The Men's Club, Spring Run-off, To Whom it May Concern, The West Fork, Uintah Stream, And Then I Came Upon an Opening in the Woods, Courtyard Drama, Uintah Trees, Through the Window into the Past, Doors, Multi-faced Can and Hunters Bad Dream. There is another (as yet untitled) one that Edie is finishing up. Come on down and see the show!
January 29, 2009 - Edie featured in Wasatch Journal Magazine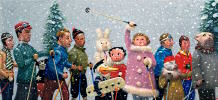 The recent issue of the Wasatch Journal Magazine (Winter 2009) has a feature article titled: "Twist of Ribbon, The whimsey of Edie Roberson" by Julie Ransom. This article (which begins on page 34), does a very good job of capturing much of the essence of Edie's motivations and creative processes, and features several representative images of her work including "Going Home" (left), "Lift Line" (right), "Summer Treasures" as well as one of the her best Trompe l'oeil paintings: "Cork Board". Additionally, "Come On, Lets Go!" is featured in the magazine's table of contents on page 10. Check it out if you can - Julie really did a great job! (and you can check out her blog here.)
November 21, 2008 - Five new paintings from this year (2008)


Five of Edie's new paintings were featured in Pilar Pobil's annual "Art in the Garden" show back in June. These new works include: "Tin Boat" (left) and "The Walrus and the Carpenter" (right) . The other three are: "The Front Porch", "Old Tomatoes" and "Here's a Flower For You". Edie also recently completed a major new piece: "The Men's Club", which was featured in the Utah Arts Council Statewide Annual Exhibition: "Utah '08 Painting and Sculpture". Edie has not painted quite as much this year because she has been taking a bunch of camping trips out in the wild! However, with the cold of November, she is now back into full-time painting mode and has an upcoming show planned for next spring at the: David Ericson Fine Art gallery. In addition to the five mentioned above, we have also added 44 more paintings to the online gallery including one of Edie's most popular: "Canyonlands Tour". The total number of paintings in the Gallery is now 160! Look for more in the near future - there are still many treasures left in the Archives!
December 5, 2007 - Brand New: "Cat Show" painting!


Edie is still hard at work, and her latest creation is titled: "Cat Show 2007" (see left). This brand new painting will soon be available and on display at the David Ericson Fine Art gallery in Salt Lake City. Also, in keeping with the spirit of this holiday season, we've added a batch of 18 mostly older paintings to the gallery, many of which focus on the (delectable) subject of food! (see right). This brings the total up to 111 paintings in Edie's online gallery. There are many more on the way so keep checking back to see more. Enjoy!
November 15, 2007 - New Paintings!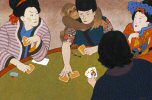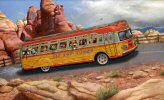 We've added 22 paintings to the gallery including two brand new ones and a bunch of older trompe-l'oeils. Yes, Edie is back into a creative mode and is hard at work painting new paintings. "The Card Game" (see left) was finished earlier this last summer and is currently available at the David Ericson Fine Art gallery in downtown Salt Lake City. Her latest, "Tip Top Tours (see right) was finished just today and will be available for viewing at Dave's gallery in a week or two. And one of the new additions to the gallery is a favorite: "Dog Show 1999". There are many more new additions in the pipeline for the web site gallery including a whole bunch of abstracts, so be sure to check back again soon!
August 1, 2007 - Its up!
At long last, Edie's website is a reality. Currently, the number of images is quite limited, but rest assured, more are on the way. Future plans include adding enhancements to the gallery page which give the viewer the ability to "zoom in" on areas of the paintings. Also, look forward to many "Easter-eggs" which reward exploration with extra content. Enjoy!